​Traditionally known as the foul line, the charity stripe as many refer to it today is one of the easiest places to get points in the game of basketball. There are no defenders, there is no contact, and it is only 15 feet from the face of the backboard. Simple right?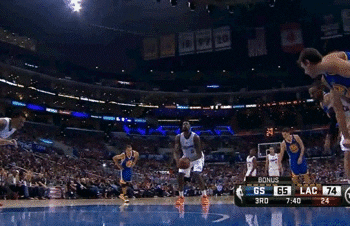 Although this seems like a relatively easy shot to make, for a lot of players it is not. I myself have struggled to make a free throw in my life, so I know it is not as easy as it seems. In a league of over 100 players who qualify for the NBA's free throw percentage leaders, the 2016-2017 season has only 5 players shooting 90 percent or more from the free throw line and a few players just a couple percentage points shy of the 90 percent mark.  You would think there would be more players making their free throws, seeing that it is a professional association. We even call it the charity stripe, meaning the points are being given away. So why is this?
The simplest things in life, are usually some of the hardest things for us to do.  You may ask why, but no one knows, they just are. Take school and studying for example, we are told if  you study and work hard you will get good grades, sounds simple enough. Next thing you know, you are 3 hours into a Netflix series you started and have not once opened your textbook for your exam in two days. Another example is communicating. A lot of our problems stem from the root of not being able to communicate effectively. We disappoint ourselves or others because we cannot express ourselves or we miss out on opportunities because we did not speak up. So how do we save ourselves from a life of complicating what is supposed to simple?
​
We have to work at it, just like practicing your free throws. The only way we are going to get better at anything is to practice and consistently do it. We have to put in the effort so what we have to do is as simple as possible. The next time you know you have a test coming…start preparing a study guide, you need to tell someone something…tell them, presented with an opportunity...take it. The more we get in the habit of doing the simple things in life, the easier they will be to do. We have to stop making life so hard for ourselves. As my father has always told me, work smarter not harder.



Please reload